Christmas Bright
Book 1 in the Jenny / Ann Trilogy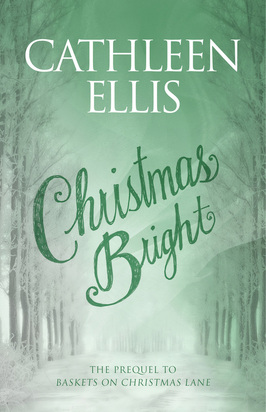 19-year-old Madison falls in love with a widower, David, in this prequel to Baskets on Christmas Lane. She teaches and becomes a stepmother to David's young daughter, Jenny, after they marry. An avalanche kills David days after their son, Christopher, is born.   
Madison adjusts to life as a single parent, while still teaching. She and Jenny grieve for David. Her dad, John, moves to the ski town of Happy Valley, CO to help Madison. An outing of skiing with Jenny and Christopher brings Madison face to face with Todd. That Christmas Eve Madison invites Todd to her home. As they spend time together, they discover a strong passion for each other.  
Suspicious circumstances regarding the avalanche that killed David are revealed. Madison and Todd marry, after being away from each other for a while. Christopher and Jenny love their new dad. The family moves to Hickam Air Force Base, Hawaii. Their son, Seth, is born. Todd continues to advance in his Air Force career causing several moves for their family.  
Time passes. Jenny works with young people as a student teacher in music. Christopher attends the U.S. Naval Academy; Seth is in high school. Madison continues as an English teacher. The family faces a terrible crisis when Jenny disappears without a trace. A private investigator takes over this cold case with no success.
In her whole heart and mind, Madison believes that Jenny survives, that God watches over her. On a Christmas Eve in their home at Andrews Air Force Base, Madison receives a cassette tape. She shares the tape with her family. It brings them joy, and hope.    
Purchase the e-book at Amazon
Purchase the e-book at Barnes & Noble
Purchase the ibook from iTunes